Wow! my baby has vital organs now..  This is too exciting, Baby Mudhar has a fully formed and functional brain.. well I wonder what he is thinking  hehe. We have been getting a lot of people trying to guess the sex of the baby from "signs" they see, and hear about what Mira is going through. Will be interesting if they are right, but with choosing a boy or a girl the choices are limited.
"The vital organs — the liver, kidneys, intestines, brain, and lungs — are fully formed and functional, while the head is almost half the length of the entire body. The forehead temporarily bulges and sits high on the head, but later will change into a more human-like feature." Please read more here.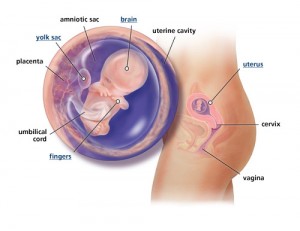 Maybe we should have some sort of Baby Pool going on..  and you can guess the Weight, Date and Time of Birth and why not the sex too. Leave a comment with your guesses 

Here Are Some Related Posts...
Filed under:
Announcements
,
Updates
—
Leave A Comment »