Here we are again with another addition to the "DOT com PHO Saturday" report! It has been a few weeks now that My Dad and I have made it out for the weekly get together recently dubbed the "DOT com PHO Saturday". Today I also learned I missed out on a Bluefur Monster picking up the tab at last weeks….  hmmm… "DOT com DIM SUM"? yeah well I guess that's what we'll call it. Too bad I missed out on Gary Picking up the tab, but I have had DIM SUM before and to me it's an acquired taste. As is Sushi, specifically Sashimi….. nuff said. Anyhow back to today's report.
My Dad and I showed up a little bit earlier than usual today 12:15PM, and we were able to get seats for us and the other 7 that would show up at the regularly scheduled time of between 12:30-12:45PM. Some of the faces weren't there today, apparently Michael chickened out from showing up because of ED's threat of kicking his ass was looming over his head.  The Usual Suspects attended (No,… Keyser Soze wasn't there).  Although I'm sure one of us could have come up with a crazy enough story like Kevin Spacey's character-Roger "Verbal" Kint did in that movie (ok wow!! talk about going off on a tangent, must be all the trigonometry in my head, I will be going through a lot of it next week in school, it's haunting me).
As I mentioned my Dad and I showed up first and ordered a table for 10 and we sat patiently as others finished their meals and seats came available. Once we had a table for about 6 we sat down and waited some more for the adjacent tables to empty for the 3-4 other seats we will need. instead of just telling you in words who came today I took my camera along today and lets instead do a picture show-n-tell of who came today.
Lets Start off with the Menu! as it's always there and without it we wouldn't know what to order (well ok we been going there long enough maybe we don't need the menu anymore).

  You can click on the image to get a full sized view and you can actually read it if you zoom in a bit. 🙂
Next lets introduce my Dad, when we arrived it was just the two of us. You can see how the Menu's are at every seat in the restaurant under the glass tops.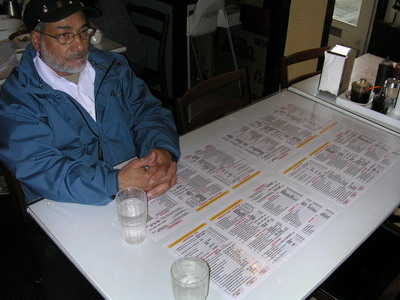 Just after 12:30PM Stephen showed up followed by Sarah, Sally and John, trailing behind was Ed.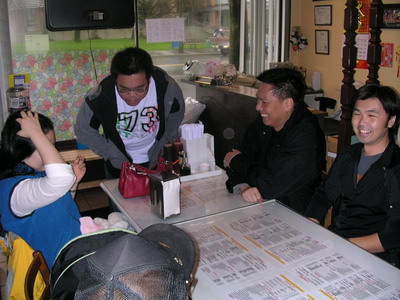 Finally Greg and Wolfgang showed up and the full Gang was present.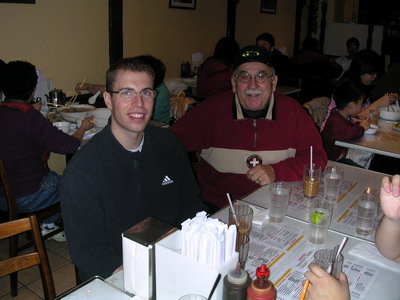 Here's a picture of ED, My Dad and Sarah.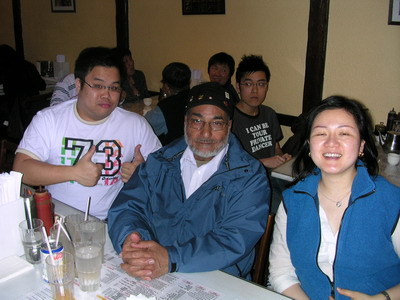 Here's a pic of the whole Gang together sans me *taking picture remember* (as best I could with my outdated camera).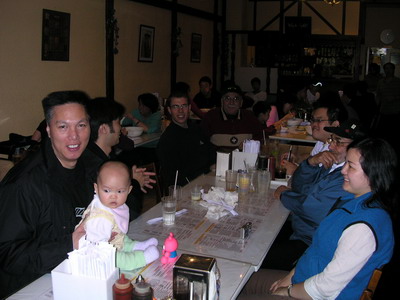 Next we learned that Sally is now learning to sit. She starts rocking around and I guess will fall backwards but Mommy Sarah made sure to watch her back.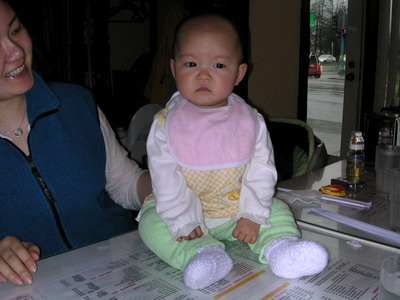 Here's one of baby Sally crying.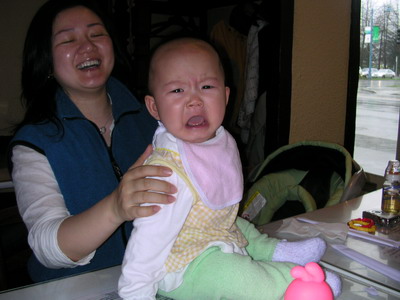 When Sally cried, Ed would also follow her tears with tears of his own. We never did find out what made him cry when Sally did.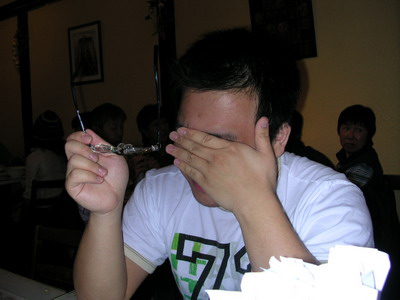 Stephen came to the rescue and stopped her from crying by mesmerizing Sally with the condensed milk for the Iced Coffee.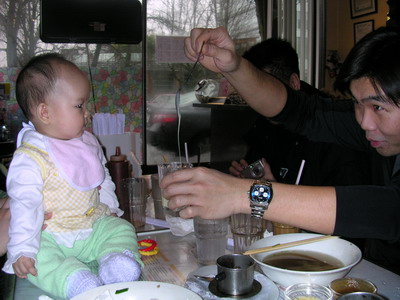 Greg and I tried to see what was so mesmerizing with this stuff. Greg seemed more involved than i could understand.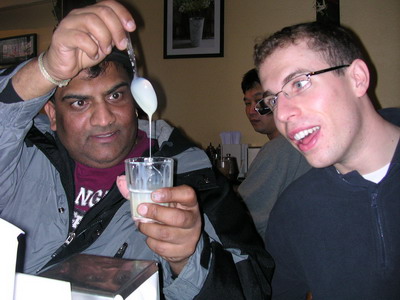 Next we have a proud Daddy. Sally is so adorable. John are you sure you are the father.??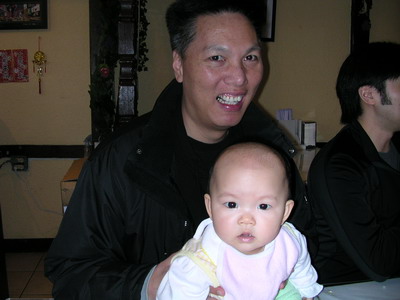 Adorable even when she cries.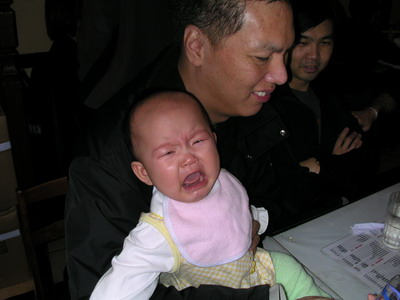 Last but not least!! The owner of PHO LAN and our host for our "DOT com PHO Saturday's" Lan.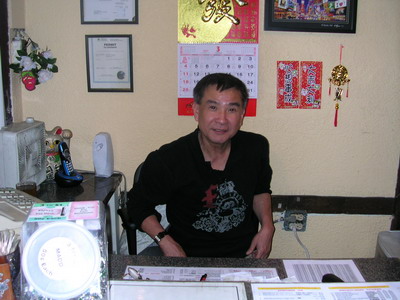 Next time you are in and around Richmond and are looking for some good eats make sure you come by PHO LAN and enjoy some Noodles with your host LAN.
Pho Lan Vietnamese Restaurant
6950 No. 3 Road, Richmond
Tel: 604-273-1583
Filed under:
Food Stuff
—
2 Comments »