Well nothing too exciting to report for this week.  Except maybe that Mira is starting to show more of a baby bump now.
She has continued experiencing the dreaded "Morning Sickness",  which I still don't understand why they call "Morning Sickness".  Mira has cravings for all kinds of foods now too,  McD's fries and Cheesburgers is one of them.
"Measuring from the crown of his head to his rump, your 1.5-inch/ 4-centimetre fetus has all his parts, from tooth buds to toenails. Your baby is busy kicking and stretching; his movements are so fluid they look like water ballet. Fingers and toes have fully separated." Please read more here or here.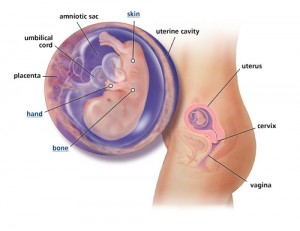 We have an appointment with the Gyno on Monday the 8th,  I will post what we find out then in the next weeks update. I look forward to getting an ultra sound setup soon. wOOt!!
Filed under:
Announcements
,
Updates
—
Leave A Comment »