w00t!! Second Trimester and that little one is growing fast..  Grew a whole inch in the last week.  Mira is doing great, showing a baby bump and all (she's too shy for a picture to be posted) she sleeps well and doesn't seem to be having those sick days as before, although she does "feel" like she will puke she hasn't for quite a few days now.
"The fetus is now nearly 3 inches / 7 to 8 centimetres long from crown to rump and weighs nearly an ounce / 23 grams — about half a banana. Its unique fingerprints are already in place. And when you poke your stomach gently and she feels it, your baby will start rooting — that is, act as if she's searching for a nipple." More here.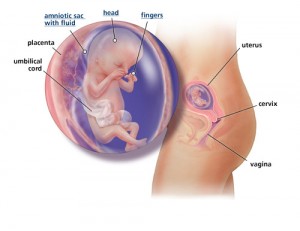 All is well, we are looking forward to the Ultrasound appointment set for March 9th, should be exciting.
Filed under:
Announcements
,
Updates
—
Leave A Comment »