4 inches and growing!!  Mira should be able to feel the baby in the next few weeks to come.  We have been busy trying to think of a name for our first born.  We have 4 letters to choose from "S, P, K, M"  for either a boy or girl any of those letters will do.  Personally I'd like my children to have a middle name too, so this is going to be fun coming up with two names per child.  We will deal with the first baby first HAHA!!
"You may be able to find out the sex of your baby by ultrasound now, since the external genitals may be developed enough that the ultrasound technician can tell you if you're going to have a boy or a girl." Read more here.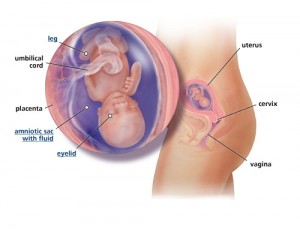 Hopefully there will be some ultrasound pictures to post next week. 
March 9th is coming quick.
Filed under:
Announcements
,
Updates
—
Leave A Comment »