Wow so that's 4 months done.  Mira is feeling great, other than the usual tiredness.  We finally had a Dating ultrasound checkup on March 9th and all is well, picture below, dating is as it should be based on Mira's LMP.  We go in for a more detailed ultrsound next month. So far so good, Mira has some more Folic Acid to take daily plus the Materna® she takes.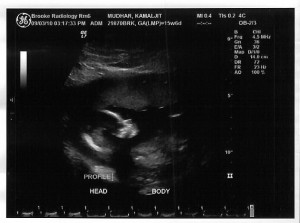 "Your baby is now about the size of an avocado (about 5 inches / 11.6 centimetres long from crown to rump and weighing approximately 4 ounces / 100 grams). In the next three weeks he'll go through a tremendous growth spurt, doubling his weight and adding inches to his length." Read more here.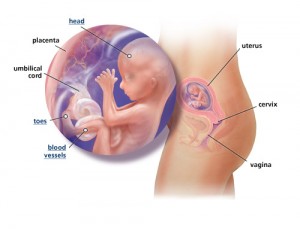 Next ultrasound will be exciting, we can find out if it's a boy or a girl. Most of the family wants it to be a surprise, but I want to know haha!!  Mira wants to know now too I think. We will know what we want when the time comes, till then we are still coming up with boy and girl names. If you have any ideas leave a comment with your choice but remember, only names starting with S, P, K and M will be considered haha!!!
Filed under:
Announcements
,
Updates
—
3 Comments »