w00t!! Week 8 and counting.. 
I suppose this is an important week according to babycenter.ca
"Congratulations — your embryo is now called a fetus, which means "offspring". Your uterus expands to accommodate its new resident, which now measures approximately five-eights of an inch / 1.6 centimetres." Please read more here.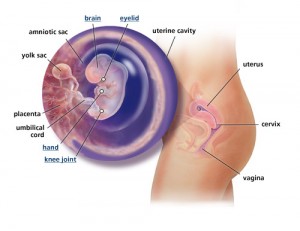 Mira is having all the feelings associated with being pregnant now, from morning sickness (doesn't always happen in the mornings though HAHA!!) to being tired when she lays down or sits up or stands too long, She craves everything but can't have more than one bite before she is full lol.
Filed under:
Announcements
,
Updates
—
1 Comment »