What a roller coaster of emotions Mira has been through this last week. One day feeling GREAT! doing some chores and back in the kitchen cooking, and also finding her appetite. To the next day just wanting to sleep or having aches and pains. I have been rubbing and massaging her aches away as best I can.
"At week's end, your fetus measures approximately 0.9 inches / 2.3 centimetres long. In both shape and size, it resembles a pea-pod and weighs less than a tenth of an ounce / 2 grams."  Read more here.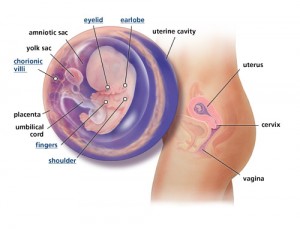 The sad part of her finding her appetite is, that she also found out what morning sickness is. Still haven't figured out why they call it morning sickness though, As it happens at any time of the day. We are hoping for a smooth completion of the first 3 months, and look forward to healthy final months. We will be seeing the Doctor again the first week of February.
Filed under:
Announcements
,
Updates
—
3 Comments »