We are well into the second trimester now. Mira is feeling well has some uncomfortable days now and then, but mainly she stays active with cooking and doing things around the house. She is getting used to all the blood tests she has to have done, she is/was very afraid of needles, but now is not as afraid as she used to be while living in India. While there all her needles went into her bum, (other than for blood tests). So she was terrified of being able to see the needle before going into your arm. The nurse told her there are MANY more tests to happen in the coming months HAHA. Poor Mira..
"About now, the fetus can grasp, squint, frown, and grimace. It may even be able to suck its thumb. Researchers believe these and other movements probably correspond to the development of impulses in the brain." Read more here.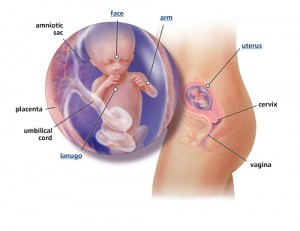 Posts in March should be more exciting we have our ultrasound appointment set for the 9th.  We are looking forward to "seeing" our baby now *smile*.
Filed under:
Announcements
,
Updates
—
Leave A Comment »